Getting educated first about your child's bassinet requirements will help you ensure your child's safety and get the best pads and covers.
Choosing a bassinet pad might seem like a daunting and tedious task, but it is one that requires careful consideration. The pad is as important as the bassinet, and it is recommended to buy the best one you can. As your baby will be spending a lot of time in the bassinet, you would want to ensure that he/she is having a great time. Babies can be fussy but they spend almost 18 hours a day sleeping, so would want to warrant your baby's comfort. There are different types of bassinet pads available for different kinds of bassinets and cribs; hence, you must choose the one according to your baby's need. An appropriately supportive pad is vitally essential for your child's growing tissues, joints, muscles, ligaments, and bones. If the surface of the pad doesn't provide sufficient support and resistance, then it can affect your child's ability to buildup stamina, stability, and strength.
So, consider these great six tips when you hit the shops: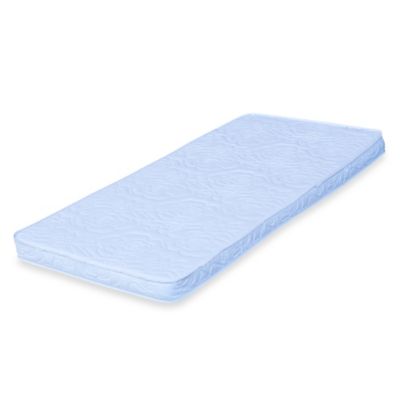 #1 Organic Pads
Go for an organic bassinet cover and pad. They are, by far, least toxic. However, if you either can't provide it or don't think an organic pad will be necessary to keep your baby safe, close alternatives include ecologically or environmentally-friendly pads and covers. They are made from non-toxic, relatively safe, and natural components, although not as pure or natural as organic ones. Another alternative is to stick to hypoallergenic bassinet pads and covers that don't contain any
potentially harmful and harsh chemicals like vinyl, polyurethane, and phthalates, among others.
#2 Have Good Breathability
You should insist on having a bassinet pad that has excellent breathability. There are plenty of ways that pads and covers can control heat and keep back heat retention, including letting hot air escape into the surrounding environment and using air vents to allow cool air in. Ensure that you consider the breathability of the pads before buying. Pads and covers that can retain heat can be uncomfortable. You should know that heat is one of the primary factors that induces or promotes Sudden Infant Death Syndrome (SIDS).
#3 Long Lasting
The durability of the bassinet pad is another crucially important feature. You would want to invest in a pad that can stay supportive and firm in spite of continuous use. There are plenty of pads that come in durable makes and models, but you need to make your own mind about that. There are certain factors to consider to gauge the durability of the bassinet pad:
Having light, well-sewn seams
Being reinforced, especially in the corners
Being waterproof
Being made of dense foam
#4 Double-Sided
Go for bassinet pads and covers that are double-sided. A double-sided pad has to be the wisest investment you can make, given that you find quality make with a good reputation that is affordable and safe to use.
#5 Lightweight
The bassinet pad you opt for must be lightweight but heavy enough to manage your baby's weight. Heavy pads can result in pressure points, something that you would want to avoid.
#6 Renowned Brand and Manufacturer
Go for pads made by established manufacturers. They are in this industry for so long; hence, they know what you are looking for.